What is the aged care star rating system?
Posted 26th May 2023
The aged care star rating system is a five-star system created by the Aged Care and Quality Commission intended to provide a quick look at how capable an aged care home is at delivering care. It creates an overall star rating based on the ratings of an aged care home in 4 different areas:
Compliance

Residents' Experience

Quality Measures

Staffing
How do they come up with the stars?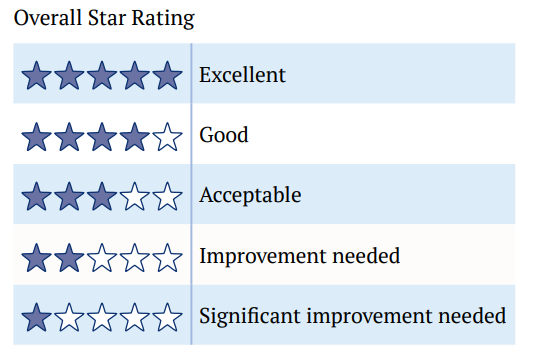 While some of the ways that these are calculated can be a little complicated, basically the star ratings are a
combination of:
• Residents' Experience
• Compliance
• Staffing
• Quality Measures
Residents' Experience
A Residents' Experience is calculated through 12 questions that provide a 'Consumer Experience' score for residents at an aged care home.
These questions include: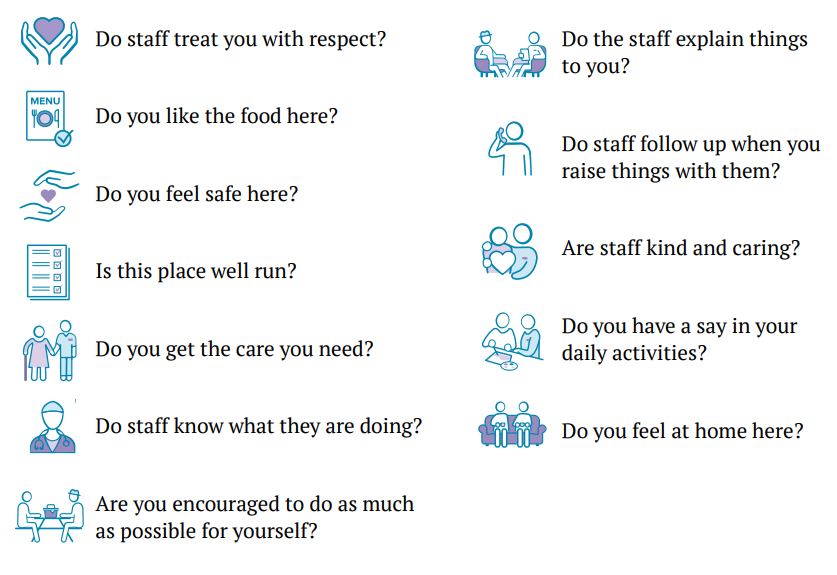 Each question is rated on a scale with 4 response options: These are:
 Never.
 Some of the time.
 Most of the time.
 Always.
Compliance
Compliance is measured based on the Aged Care Quality Standards which are used to provide a guide for how an aged care home in Australia should operate. The stars for compliance are calculated in a very similar way to the previous 'dot' system that was in place on the My Aged Care website.
An aged care home needs to meet the aged care standards in order to be compliant. You can find more detail on the standards on the Aged Care Quality website

Note: We've tried to offer simplified versions of some of these areas, but if you're after all the detail of how these are calculated, you can visit the Star Ratings Provider Manual to see the different areas that get assessed as a part of these ratings.
Staffing
Adequate numbers in staffing has been a hot topic in aged care for many years and the latest attempt at getting us closer to consistent care is through the new aged care funding model AN-ACC.
While AN-ACC itself is a subject for another article entirely, there are some important new standards set out by the Commission around staffing that affect the staffing section of the star ratings including a standardized number for care minutes.
The new minimum average care minutes includes:
• 200 care minutes per day for a resident,
• With 40 of those minutes from a Registered Nurse.
Average care minutes, however, are all dependent on the level of care. A resident with less care needs would need less care minutes from clinical staff and this is all worked out through AN-ACC.
Once the average care minutes have all been worked out, a star rating is assigned based on how high or below the average a provider's care minutes is.
Important note: Staffing refers to the level of clinical staff and doesn't include lifestyle workers, pastoral carers and volunteers
Quality Measures
The quality measures section looks at the percentage of incidents that are occuring within a home and combines them together to create a star rating.
Specifically, quality measures look at:
• Pressure injuries – how many there are and how many there are for residents
• Physical restraint – how often is it used in a home (if at all)
• Unplanned weight loss – how many residents experienced unplanned weight loss
• Falls and major injury – the number and severity of falls and injuries
• Medication management – checking to make sure that residents aren't overprescribed
medicine
Why does any of this matter?
While there is a lot of detail within how these stars are calculated, it's important that you're aware of how much scrutiny care goes under in the aged care sector.
There are many, many people inside and outside of St Vincent's that are reviewing care practices constantly to make sure that people living in aged care get the best possible care.
If you have questions about your own, or your loved one's care, you can reach out to your home's clinical team who can give you an update.