What is a Care Plan in aged care?
A care plan in aged care is a document that outlines the assessed care needs, preferences and goals of an aged care resident and how an aged care provider will support them.
When an aged care provider is caring for someone in aged care, how do they keep track of everything
that a
resident wants and needs? That's what a care plan is for.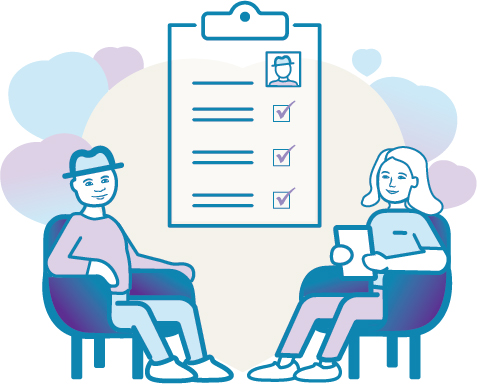 Care plans are a guide to care for each individual resident
In aged care, there is no one size fits all approach.
Everyone in aged care has their own goals, preferences, needs and wants.
A care plan will answer (in detail) all the questions you would expect to have answered for someone that you're looking after and perhaps some things you hadn't even thought of yourself!

All of these questions (and more!) goes into a care plan to make sure that your loved ones feel they are heard and understood.
It's important that you (or your loved one) knows what is in the care plan so that you're as clear as possible on the care you're receiving.
And if there's anything that your aged care provider doesn't know about, you can let them know.
Care plans

give clear direction on care
From care workers to nurses and everyone in between, a care plan makes it easier for staff to get to know residents even before they even have their first chat.
Because of this, care plans are very detailed. They contain information on what a resident wants and needs as well as proper procedure on how to provide care for them.
Advice on medications the resident uses and how they should be administered

Exercise plans including how many of what exercise they should be performing

Specifics about food including how finely food should be cut up so it's easier to eat
Care plans

involve

everyone

that cares for a resident
Care plans are the combined work of all of the teams involved in a resident's care. Because the role of a good aged care team is to be your eyes and ears when family isn't there.
A care plan is put together through the goals and preferences of the resident, notes from doctors and nurses, advice from physiotherapists, nutritional advice from dietitians and more!
As an example, at St Vincent's there's a whole team of people keeping an eye out for residents:
Care Workers

From a care perspective, it all starts with the care workers.

Personal care workers support the work done by nurses and are there to provide personal care to you in your home. They also provide emotional support, get involved in a person's general day-to-day activities and daily living like putting clothes away in the wardrobe or even just having a tea.

If they have any concerns about health (mental or physical), they pass on that information to nurses, who can work with care managers and even the facility manager to ensure your loved one's needs are being met.

Lifestyle coordinators

In addition to care workers, residents are in close contact with lifestyle coordinators who are responsible for ensuring their lifestyle team delivers a program that is both stimulating and entertaining for the residents.

Again, any changes in mood, behaviour or health are noted and assessed on a care plan to make sure residents are getting the most out of their time at St Vincent's and are happy and healthy.

Allied health workers

A range of different Allied health care that comes onto site at various stages assisting residents. Speech therapists, physiotherapists, podiatrists and more, are all focused at different stages to make sure your loved one is healthy and looked after.

Pastoral carers

The pastoral care team is another important touchpoint. They provide spiritual and emotional care and support to residents, families and staff. They're an extra ear to talk to if anyone needs it.

They too are actively involved in the lives of residents and play an important role in residents' spiritual and emotional wellbeing.

When it comes to the emotional and spiritual care needs of a resident (and their care plan), pastoral carers are the #1 option.

Nurses

Nurses check and plan your care, and manage your general health. They'll administer medication, sit down with you and work out a care plan and are the go between for families and residents. They will liaise with GPs and Allied Health to discuss any issues with your health and amend your loved one's care plan based on those conversations.

Care Manager

The Care Manager supports and oversees the care staff. Any issues or concerns that the care staff cannot deal with are escalated to the Care Manager who then reports up to the Facility Manager.

Facility Manager

The person who oversees and coordinates the running of the whole facility and is responsible for all staff and residents. Regardless of the situation, the buck stops with the Facility Manager.

While these groups of staff are the main touchpoints, administration staff, chefs, maintenance officers and a host of other staff are always attentive to the needs of residents.

Whether it's a friendly smile or a genuine ask of how their day is going, every St Vincent's staff member understands their role in being an active part of making St Vincent's a place where everyone can feel welcome, valued and safe.
Care plans

are transparent

so you can access and understand them
When it comes to the care of someone you love, you want to be on the same page as the people caring for them. That's why a care plan is a document that is shared with residents and their families (if they want it to be).
Sharing care plans with residents and families isn't just nice, it's a government requirement.
From Standard 2 of the Aged Care Quality Standards:
'The outcomes of assessment and planning are effectively communicated to the consumer and documented in a care and services plan that is readily available to the consumer, and where care and services are provided'
It's our job to make sure that a plan is readily available to the 'consumer' -- that's you and your loved one.
For example, you may choose to have your care plan with you in your room or be happy with it staying in the nurses station.
It's your care plan so it's up to you!
Tip: If you have multiple people visiting your loved one in care, make sure you're all on the same page of what care your loved one is receiving and why. This can help take away some confusion for residents and family.
Care plans get reviewed and changed regularly
While there is no set time for when care plans are reviewed in aged care, care plans at St Vincent's get reviewed with residents and family at least once a year.
But the reality is, care plans are changing all the time -- even if you don't know about it straight away!
Whenever there's a
visit
to the GP and
medication
gets changed
- that's a care plan update.
If a resident has
said
they want their
cup of tea a little cooler in the morning - that's a care plan update too!
Whether at St Vincent's or with another aged care provider, care plans should be changing regularly.


Why a care plan change might happen
The broad reasons a change to a care plan might occur include:
The resident's condition changes (for example, physical or mental health)
Situations change (for example, if the organisation's arrangements for a service changes)
Incidents or accidents happen (for example, if a resident has fallen).
The care and services we provide to residents is something that is constantly evolving in consultation with residents and families. We strongly encourage residents and family to request a review of their care plan to make sure it's still working at its best for them. They're able to request a review at any time.
Any changes to your care plan will only be done so with your agreement. We will always discuss any changes with you to ensure you understand and agree to them. You will receive a copy of your updated care plan for your records.
How do I know if a change happens to the care plan?
Whenever something changes with any of these groups, it gets logged by staff on the resident's care plan. If there are major changes, residents and their family meet with the Clinical Manager, Registered Nurse or Facility Manager to discuss the changes together.
Whenever something changes with any of these groups, it gets logged by staff on the resident's care plan. If there are major changes, residents and their family meet with the Clinical Manager, Registered Nurse or Facility Manager to discuss the changes together.
Need more help?
If you prefer, you can also choose an advocate to represent you in your dealings with St Vincent's.
An advocate can help you to understand your rights with any form of aged care, and be an impartial guide for getting the most out of your services.
If you need help or are feeling unsure about your rights, they can be an invaluable help, and can be found through the
Older Persons Advocacy Network (OPAN)
.
St Vincent's approach to care plan reviews
At St Vincent's, there are other checks we put in place to make residents' care is closely monitored.
While care plans change all the time, we add an additional monthly check in with residents and family to make sure everyone is on the same page.
1. The monthly check-in ensures any changes that have happened with a resident's care are working.
If a resident has lost weight, then the care plan is checked to make sure that the new diet they are on is helping. If a resident has been seen by the doctor and has started on new medication, we make sure that staff follow up to see how it is going or if there are any side effects that need monitoring.
So, the check-in is an extra way of following up care changes that have happened throughout the month.
2. The check-in ensures residents have everything they need to be comfortable.
This could mean someone pops in to make sure you have all the clothes you need to be nice and warm or perhaps we might give you a manicure if your nails need a trim. Whatever you need, we look into and double-check.
3. The check-in is a great opportunity to contact residents or family.
Are you still happy with what we're doing? Are you happy with the care plan and the service and care that we're providing?
The check-in call is important because without it, it's easy to feel like we haven't done a check-in at all.
Important things you should know about St Vincent's care plan check-ins:
Don't forget: We can always schedule our calls and updates around what works best for you. Do you want an update on your loved one's care on the last Tuesday of every month at 3pm? We can do it. Just ask!
And also: If you haven't heard from us when you normally do, call us! We don't want you to ever feel like you can't get an update – especially if you're feeling concerned about your loved one's care.
Care plans sometimes need explaining
If you're not sure about any aspects of your loved one's care, or if you're looking into aged care and aren't sure where to start:
What is Residential Aged Care?
Learn more about what is residential aged care at St Vincent's Care . We welcome you to contact our friendly team with any questions.
View all
How to talk about aged care with your family
Learn more about how to talk about aged care at St Vincent's Care . We welcome you to contact our friendly team with any questions.
View all
How to get the most out of your ACAT/ACAS assessment for Aged Care
ACAT assessments are important. But they can sometimes be a challenging part of the process in applying for aged care, home care and respite.
View all