St Vincent's Aged Care staff and qualifications

St Vincent's Aged Care staff and qualifications
Providing the best care is, without question, our highest priority at St Vincent's, particularly in aged care. We are committed to ensuring our residents and clients are the priority in everything we do.
Central to meeting this commitment is our staff and their qualifications. Our team is made up of Registered Nurses, allied health professionals, and qualified carers who are dedicated, skilled and passionate about improving the lives of those who entrust us with their care.
With locations across south-east Queensland, Melbourne and Sydney, in our aged care and retirement living facilities, in-home community living services, and corporate divisional offices, the variety of roles and areas of expertise across the division are as diverse as our staff. For many of our staff, working for St Vincent's Care Services is more than a job, it's a vocation, or even a calling.
Our services are founded on a long heritage of caring, and our staff and volunteers live our values of compassion, justice, integrity and excellence every day. They are dedicated and skilled, and are the reason we can deliver on our promises of great service and best practice.
The care and services we provide to residents is something that is constantly evolving in consultation with residents and/or their families. We strongly encourage residents and family to request a review of their care plan to make sure it's still working at its best for them. They're able to request a review at any time.
Any changes to your care plan will only be done so with your agreement. We will always discuss any changes with you to ensure you understand and agree to them. You will receive a copy of your updated care plan for your records.
Here's some quick facts about our staff:
Every staff member meet the legislative requirements for working in home care and are carefully vetted upon application.
Every care worker, nurse and volunteer must have a current police check to work at St Vincent's.
Every person from our team that visits your home will have ID on them.
Every staff member wear a uniform relevant to their role so they're easily identifiable.
If you have any concerns about our staff, our team is always available to talk. Your comfort in our service is extremely important to us at St Vincent's.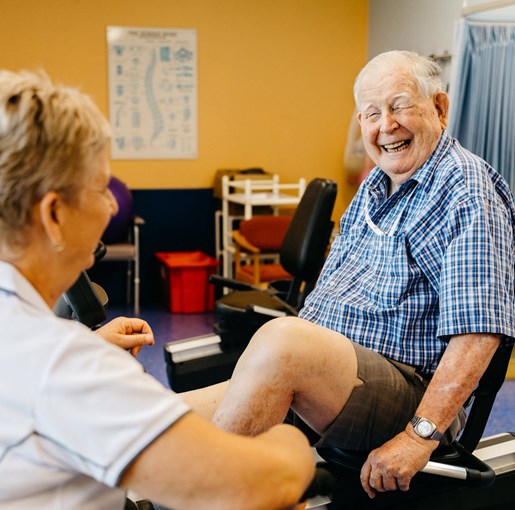 How do I know staff will be around when they're needed?
The topic of staff numbers and ratios is one that comes up often in discussion with aged care homes. There are a few factors that influence how many staff will be caring for your loved one at any one time.
The level of care we provide at St Vincent's is based on:
The actual care needs of individual residents
Feedback from residents, families and loved ones
Discussions with and among staff (clinical and otherwise)
Benchmarks that ensure we're in line with industry best practice
As we mentioned earlier, care is not static. The level of care that you need will change depending on your needs.
How do you compare to other aged care organisations with staffing levels?
The actual staffing levels at St Vincent's are based on something called the StewartBrown benchmarks.
StewartBrown is the largest organisation dedicated to providing professional services to our not-for-profit and aged care sectors, and they refresh these benchmarks quarterly using data from over 1,100 residential aged care homes in Australia.
Benchmarking is best practice in aged care as it ensures we provide the right amount of staff necessary for how many residents we are caring for on site, and the level of care they require at any given time.
Some things to note about St Vincent's:
Our staffing levels are above these StewartBrown benchmarks
We have extra hours outside of the benchmarks staffed for pastoral care
You may not always see staff, but that doesn't mean they're not around – usually in the privacy of other residents' rooms
Staffing in aged care is a constant balance between offering the proper level of care and maintaining independence. It's important to note that not everyone's care needs are the same, and the number of staff we have on at one time can vary.
The level of care we provide is something we take very seriously. If you do have any queries regarding our staff, please chat with our nursing or care team when you get the chance to do so, as they will be best equipped to answer.
Staff qualifications
Qualifications for staff in home care vary depending upon the role and services delivered.
Staff will be qualified in everything from a Certificate III in Individual Support (Ageing, Home and Community), which provides ground-level knowledge and practical experience you would need to work in aged care all the way through to a Bachelors in Nursing (or similar) to work as a Registered or Enrolled Nurse.
Our allied health teams are similarly certified. For example, our physiotherapists and Occupational Therapists (OTs) are all registered with AHPRA (Australian Health Practitioner Regulation Agency).
As an example of qualifications, aged care workers are trained in their Certificate III to:
Provide individualised support
Support independence and wellbeing
Communicate and work in health or community services

Work with diverse people

Work legally and ethically

Recognise healthy body systems

Follow safe work practices for direct client care

Comply with infection prevention and control policies and procedures

Facilitate the empowerment of older people

Provide support to people living with dementia

Meet personal support needs

Support relationships with carers and families
While training will differ depending on the staff member's role, this list provides an overview of some of the training that you can expect from trained aged care workers who you will encounter regularly in your stay at St Vincent's.
What do staff look out for? Are they attentive?
Aged care workers report back any changes to nursing and care staff are your eyes and ears when you're not there.
There is a comprehensive list of people who are keeping an eye out for loved ones in St Vincent's homes.

Care Workers
From a care perspective, it all starts with the care workers.
Personal care workers support the work done by nurses and are there to provide personal care to you in your home. They also provide emotional support, get involved in a person's general day-to-day activities and daily living like putting clothes away in the wardrobe or even just having a tea.
If they have any concerns about health (mental or physical), they pass on that information to nurses, who can work with care managers and even the facility manager to ensure your needs are being met.

Lifestyle coordinators
In addition to care workers, residents are in close contact with lifestyle coordinators who are responsible for ensuring their lifestyle team delivers a program that is both stimulating and entertaining for the residents. Again, any changes in mood, behaviour or health are noted and assessed on a care plan to make sure residents are getting the most out of their time at St Vincent's and are happy and healthy.

Pastoral carers
The pastoral care team is another important touchpoint. They provide spiritual and emotional care and support to residents, families and staff. They're an extra ear to talk to if anyone needs it. They too are actively involved in the lives of residents and play an important role in their spiritual and emotional wellbeing.

Nurses
Nurses check and plan your care, and manage your general health. They'll administer medication, sit down with you and work out a care plan and are the go between for families and residents. They will liaise with GPs and Allied Health to discuss any issues with your health.

Allied health workers
A range of different Allied health care that comes onto site at various stages assisting residents. Speech therapists, physiotherapists, podiatrists and more, are all focused at different stages to make sure your loved one is healthy and looked after.

Care Manager
The Care Manager supports and oversees the care staff. Any issues or concerns that the care staff cannot deal with are escalated to the Care Manager who then reports up to the Facility Manager.

Facility Manager
The person who oversees and coordinates the running of the whole facility and is responsible for all staff and residents. Regardless of the situation, the buck stops with the Facility Manager.
While these groups of staff are the main touchpoints, administration staff, chefs, maintenance officers and a host of other staff are always attentive to the needs of residents.
Whether it's a friendly smile or a genuine ask of how their day is going, every St Vincent's staff member understands their role in being an active part of making St Vincent's a place where everyone can feel welcome, valued and safe.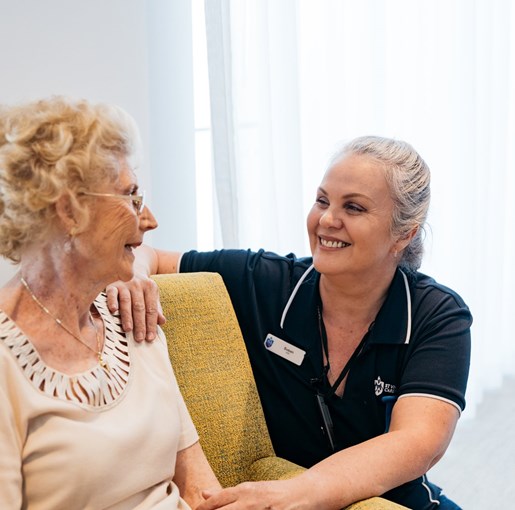 What happens when care needs to be changed?
The broad reasons a change to a care plan might occur include:
The resident's condition changes (for example, physical or mental health)
Situations change (for example, if the organisation's arrangements for a service changes)
Incidents or accidents happen (for example, if a resident's has fallen).
The care and services we provide to residents is something that is constantly evolving in consultation with residents and/or their families. We strongly encourage residents and family to request a review of their care plan to make sure it's still working at its best for them. They're able to request a review at any time.
Any changes to your care plan will only be done so with your agreement. We will always discuss any changes with you to ensure you understand and agree to them. You will receive a copy of your updated care plan for your records.
Why a care plan change might happen
Ann is withdrawing from leisure and lifestyle activities.
A support worker notices Ann isn't getting involved as much as she used to. She's not attending the live concerts on a Wednesday like she used to.
It's the role of the team to work out why and adjust care accordingly to match how Ann is feeling and her personal preference.
Maybe Ann was tired of live concerts and wants to try different activities?
Is it because her favourite leisure and lifestyle coordinator isn't involved in live concerts anymore?
Maybe there's a physical reason she's withdrawn. Is she experiencing new pain? Is her walker not giving her the support she needs in getting around the home?
We would ask Ann how she was feeling. We would talk to her family to see if they had noticed any change, or if there's anything they think we should know that would help.
Then from all of this investigation we would get everyone together and talk about what we could do to improve Ann's care plan and her care in general.
This is just one example of what could prompt a review of a care plan, but there are countless others. Changes to a care plan shouldn't be a confronting process. Care plans are designed to be changed to suit changing wants and needs.
To reiterate again, we are always watching and listening for any changes that need to be made and are working with you all the time to monitor and manage your needs.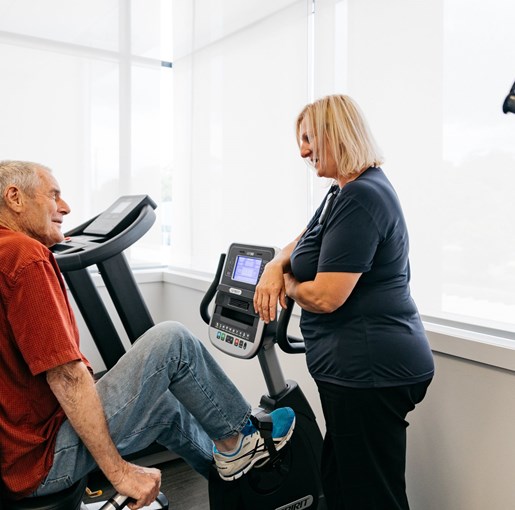 Not sure where to start?
If you're starting out on your own navigating aged care and not sure where to start, St Vincent's can help. Call us on 1800 778 767.
What is Residential Aged Care?
Learn more about what is residential aged care at St Vincent's Care . We welcome you to contact our friendly team with any questions.
View all
How to Talk About Aged Care With Your Parents
Time and time again we've heard families say the same thing: bringing up aged care is one of the hardest things to do. So, let's talk about how we can make that chat just a little bit easier.
View all